Day 11 - North to Hanoi
On the river terrace on our last morning in Hoi An.

And so it was time to say goodbye to Hoi An. We were up early to make the most of our last morning. Trouble was, our shoemaker was being a pain in the... well a pain in the foot really.

We'd gone in two days before and been measured up and chosen some designs from a couple of magazines. The next day, we'd had a late fitting and things had not gone well. All our shoes had either been too small or the soles way too thin. Design-wise, things were fine.

We'd told them clearly that we had little time to lose on this day as we had to leave from the hotel just after 12. They'd said this was fine but when we went in at 10, they told us to come back in half an hour.

Half an hour later we were told to wait. It was getting perilously close to 11am. Then, back came the shoes. Mine seemed to fit (it was only when I got back to Korea that I realised they were too small!) but Sheena's boots were so narrow that she couldn't zip them up. I have to say this though, the Vietnamese reputation for tenacity and pursuing something to the very end, which the US discovered to their cost, is absoluately true. Putting Sheena on the back of a motorbike wearing her boots, they drove her over to one of the workshop which serve all the shoe shops in Hoi An.

Flying through the town on the back of a stranger's motorbike on her way to who knows where, Sheena found it all slightly bizarre and amusing. She turned up at a place where tens of shoemakers were crafting footwear under mountains of leather and rubber. In this hive of activity, Sheena was remeasured and her boots altered magically so that, within minutes, they fitted.

Sheena came back to the shop and then headed back to the hotel to pack up our stuff and get ready to leave. This left me to pay. Now, the first thing I'd said to the woman running Happy Soles (for this was the name of the shop) was that we'd have to pay by Visa. No problem she said. But it had been a problem when it came to paying the deposit. She couldn't use the machine and had to call some guy who came and did it for her. It was too much to ask that she would pay attention enough to do it hereself when it came to the final payment. She tried it three times and even took my card over the road to a friend's shop to try it there. No joy.

I was getting a bit irritated now as I had precious little time to waste before we had to leave to catch our flight to Hanoi. She was being very pushy, demanding cash which I didn't have and refusing to give me my credit card back. Eventually, there was nothing for it but to call the same guy again to do the same thing again. Thankfully, it worked. I virtually ran back to the hotel.

If you're ever in Hoi An and need shoes, don't bother checking out Happy Soles - Unhappy Sales more like.

But we had another city to get to grips with, a few hours later, we were picked up from Hanoi airport by a man with hairiest mole we'd ever seen. At first we thought it was simply a fetish he had... then we spotted lots more men sporting hairy moles. It seems they must be revered, perhaps as indicators of wisdom. A macabre tendency to scare people more likely. The hairs on these moles are usually white and we saw some at least ten cm long. The men who sport them are always clean shaven except for the mole. It's a little bit like someone keeping a bonsai tree. I imagined them spending hours pruning and carefully training the hairs to grow in particular directions.

Perhaps the mole was an omen and we should have taken notice. It turned out that the man was taking us not to the Old Quarter of town, as we had thought but to just south of the lake about 2km from where we'd booked. There seemed to be a simple explanation for this: we were going to the Lotus Hotel and, sure enough, the Lotus was on our map just south of the lake. THe only spanner in the works was that we had booked at the Tung Trang Hotel north of there. When we arrived outside it, it looked nothing like the place I'd seen on the web and inside it looked even stranger.

The entrance was through a restaurant and then up some ladder-like stairs. Our room literally opened onto a reception that the receptionist slept in (and watched TV in until we told him to can it.) The room had twin beds and was filled with furniture that was obviously leftover from a car boot sale that hadn't quite been succesful. We had a wardrobe but couldn't get into it as it was blocked by a coffee table and a chair covered in spots of paint. Our "bathroom" resembled a greenhouse of frosted glass. Clearly, this was not what we'd booked.

If they hadn't had our name on a sign at the airport I'd have thought we'd been snatched by a rival hotel. But they'd even spelled our name right so it wasn't completely bogus. Perhaps the orignal hotel had been overbooked and they'd passed us on to this place. But it was a room and we knew we could look elsewhere. We dumped our stuff and headed into town.
I guess experience has taught me this but, just before we left, I clarified the room rate with the receptionist. $25 I was told. Surprising this as it had been $12 in an email I had a copy of. Okay, $15 then with breakfast. No, er, $12 or nothing.
Teddy bear anyone... please someone take a teddy bear!!!
We walked through town discovering Hanoi (basically Saigon with trees and older buildings) and headed for an obscure travel agent's office in the Old Quarter. We were going to the nerve centre of the place that had booked the hotel in Hoi An for us, the Vinh Hung resort. There, we pleaded our case and asked for a $40 refund, the difference between the room price we'd paid and had actually stayed in. After a bit of persuasion, and a call to the hotel reception to check we weren't pulling a fast one, we were very glad that they paid. Nothing but an apology though for not telling the hotel we needed a car to collect us from the airport.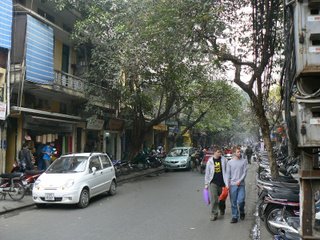 A typical street with typical tourists in the Old Quarter of Hanoi
Take your pick ladies: wood, copper, rubber or stone!
We ate out and went home to our strange room...