Day 09 - A (Not That) Merry Christmas
When we'd finally given up trying and had got up and had breakfast (pretty good buffet), we headed to reception to request another room. Their suggestion initially was to give us a room two doors away on the river. Er... no... that's hardly going to be any quieter is it. Then they showed us a room where workmen were laying a stone path outside complete with angle grinders. They weren't quite getting the point. Eventually, we had to settle for a cheaper, smaller but quieter room on the other side of the pool away from the river.
Great... but then the sink didn't work and the toilet wouldn't stop flushing and the electronic safe wouldn't unlock itself. Got that sorted out and by now half our Christmas day had vanished.
Headed into the historic town of Hoi An.
Tip for nations at war: Not bombing your enemy's towns can pay dividends in the long run. Hoi An shares this distinction with Kyoto, neither of which were bombed by the US out of concern for their cultural value. Shame Dresden didn't make the list but you can't be picky when you invade all of Western Europe I suppose.
Hoi An is a town with severe schizophrenia. It's first personality is that of a 19th century trading town which is exactly what it would look like and probably be if there weren't any tourists in it. It's second personality comes from the influence of tourists and give's the shells of its buildings contents at odds with its image. Beautiful buildings house backpacker cafes offering fruit shakes and an internet connection. Townhouses that once contained the families of traders in exotic silks have been gutted and filled with the less exotic silks and cheaper cottons of families now desperate to fill the rucksacks of each traveller with hastily tailored clothing.
Each day we went out into the town we had to run the gauntlet:
"Hello you want shoes?"
"Hello you want suit?"
"Hello you want laundry?"
"Hello you want motorbike?"
"Hello you want postcard?"
"Hello you want boat?"
"Hello you want food?"
"Hello you want push me in the river because I'm driving you up the wall!?"
Kind of detracted from the beauty and charm of the place really. Vietnam in a nutshell as our experience finally proved.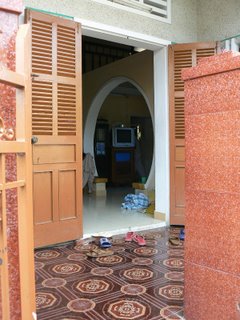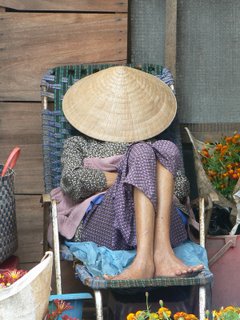 There's a roaring trade in silk lanterns here too.
We really splashed out for our Christmas lunch though. Finding a restaurant that was completely deserted we realised that this was because it was extortionate; they were offering a set lunch for $4 each. I know, we really do indulge ourselves but you can forgive us this once can't you - it was Christmas Day after all. We had free champagne to start with and a cocktail each to boot and the bill came just short of $10.

Spent the rest of the day exploring the town including getting fitted for some shoes.
If our lunch was sublime, our evening meal was ridiculous. From across the river it looked great. But you shouldn't trust anything that looks its best at night. What to us looked like a bustling balcony terrace covered in vines and romantic riverside tables turned out to be a shabby collection of tables with plastic tablecloths advertising drinking water under hanging gardens of assorted plastic plants. Unfortunately we'd already ordered and started eating by the time Sheena spotted the rat coming out from where they seemed to be preparing our food.
At least we had a quiet night's sleep though!
Sakura, our restaurant for Christmas lunch, by night.