Day 05 - Mekong II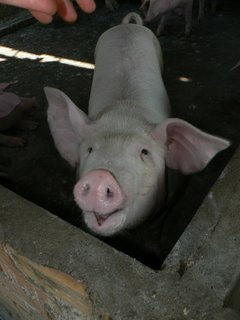 A pig greets us at the rice paper producing plant. Might not be kosher then...

Mother and child in the market at Vinh Long
Quite what the story in the HIV sign picture was we didn't really want to know...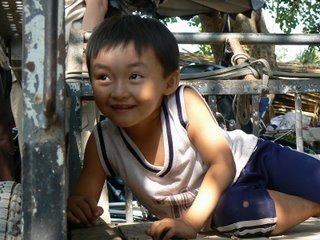 Boy in Mekong Delta market town
The largest floating market on the Mekong was our destination this morning: barges, boats, floating homes, skiffs, paddling boats, rowing boats, boats laden with wares, sinking under loads of pineapples or rice or melons or people moving to and fro in an aquatic reflection of Vietnamese roads, but without the constant blaring of horns. Replacing the horns was the put-put-put of the long-tailed motors all the boats have and which many people control with their legs, leaving their hands free to sell, to buy, to pick their nose.
An unlikely place to film a pop video but that's what they were doing. Note that from a health and safety point of view, having lifejackets seems to be equivalent to wearing them.

Our boat stopped in the midst of this and a smaller boat drew alongside to take us off around the market. It was only big enough for half of our group so we waited while the first group went round. We had no shortage of entertainment as little boats constantly drew alongside: "Mister you want buy something." "I give you good price." Some had even roped their children into the game and it was hard to resist some of their charms.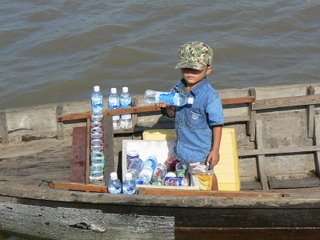 But all we did buy in the end was a pineapple, deftly cut and halved for us by the vendor. He must have sold a good twenty or so to our boat alone. The rest of the boats we repelled until it was our time to browse.
Boats come here to sell goods and to buy others from villages further up the Mekong. What they have for sale, be it garlic, melons or rice, they hang from long bamboo poles erected on deck. These act as flags of a sort, enabling you to take in from a distance what each boat sells without having to pull alongside and run the risk of a hard sell. As elsewhere in the country, there was little variety with many boats selling almost exactly what the boat alongside was selling. How they make a living is beyond us in the face of such competetion.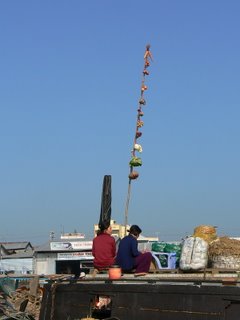 As per the pole, these guys are selling pretty much every item of veg under the sun.
The boats remain here for a few days hopefully selling out and then loading produce to trade on their return to their villages. While they remain, the family lives on them sleeping in hammocks, eating on board and defecating who knows where. It seemed a confined and monotonous life although the guides do their best to romanticise the whole affair. We enjoyed the atmosphere but it didn't seem half as crowded and colourful as we'd imagined. The guides were also quick to dismiss anything Thailand had to offer in the way of floating markets. Perhaps they're too crowded and colourful.

Back on the boat we headed to a rice husking plant. The process of husking rice is hardly new to us. Sheena had after all grown her own rice in a field in Japan and was no stranger to the grain. But it was amazing to see the machinery that they currently use to do it. The machinery was antiquated, ramshackle and downright dangerous but fascinating all the same. If anyone is familiar with the work of Heath Robinson you'll have recognised it immediately. If not, shame on you. Get to Google right now.
We also visited a local market and this was one of the most interesting things we did. We wandered around the sights and sounds and even sampled some roasted banana. What we didn't touch though were the various bits of duck left lying around...
Later we visited a place where they make rice paper. This would have been interesting had we not already been shown this process the day before by a different guide. Thick rice water is ladled onto a cloth stretched over a pan of boiling water. No more than 30 seconds later, this is peeled back and lifted off as a film of translucent rice paper. In case you wondered, it is this that holds the spring in your spring rolls. In Vietnam you can eat your spring rolls deep fried or fresh. If it's fresh, it's wrapped in rice paper just as it comes from this process allowing the vegetables to be crisp and fully flavoured.
We were surprisingly tired when we finally were dropped back into the madness of Saigon. Back at the hotel, Sheena checked email and availed herself of the free offer of coffee too.
Sheena checks email at the Buddha-laden reception in Madame Cuc's.
Vietnamese coffee is served like this with a metal filter over your cup/glass. The water filters into this. Finish this off by adding from the tin of condensed milk on the left. Hard to find "fresh" milk (as normal milk is called here) and Sheena can't say she enjoyed the coffee here until she got to Hanoi and it more resembled French coffee.